YEAR(S) COMPLETED
SERIES
SUMMARY
SELECT WORK(S) / INSTALLATION VIEWS
---
2007—2008

A Colonized Mind
On the limitations of representative, visual language to tell one's story. Specifically, considering James Baldwin's statement:
"The paradox of education is precisely this — that as one begins to become conscious one begins to examine the society in which [they are] being educated."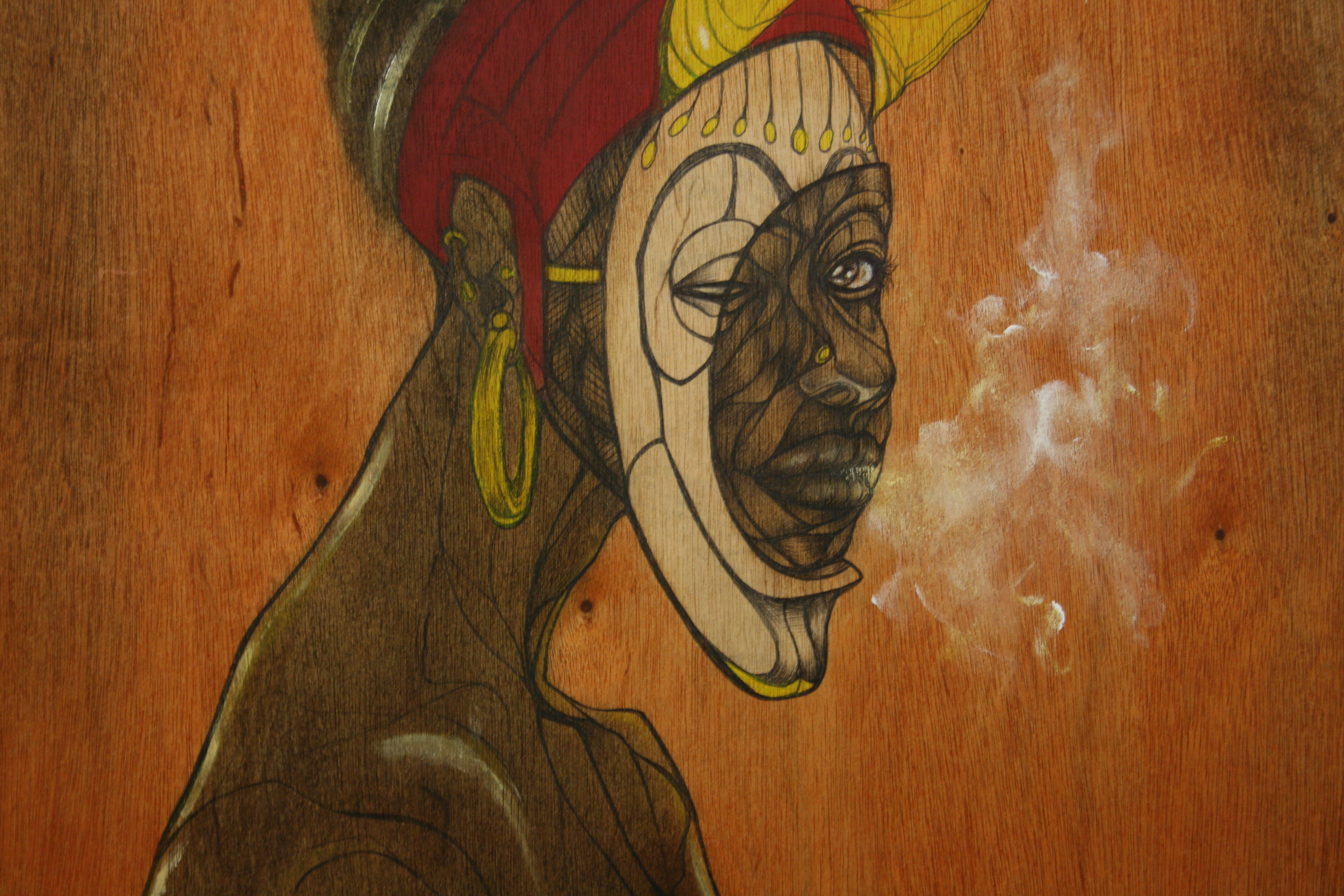 ---
2011

(MAPS)
"Where some may see flat, static narratives, I see a spectrum of tonal gradations and realities. What I am creating is literally black portraiture with ballpoint pen ink. I'm looking for that in-between state in an individual where the over-arching definition is lost. Skin as geography is the terrain I expand by emphasizing the specificity of blackness, where an individual's subjectivity, various realities and experiences can literally be drawn onto the diverse topography of the epidermis. From there, the possibilities of portraying a fully-fledged person are endless."

— Artist Statement, 2011
---
2012

Black Surfaces. Black Grounds.

Using consistent materials: black ballpoint pen ink and black acrylic ink on black matted or semi-glossed illustration board. Surface details in the mark-making draw on visual inconsistencies (light, shadow, and texture) and problematic contradictions ingrained in the chroma. Attempts to deconstruct the surface with various line-work, shading, and other tactile traces reveal a "copper-like" sheen, depending on your position, possibly accentuating stale concepts. Even so, the subjects of the series are interpreted bare, their purpose is not to be a spectacle for the viewer. In an isolated space, a sense of placement disclosed in titles.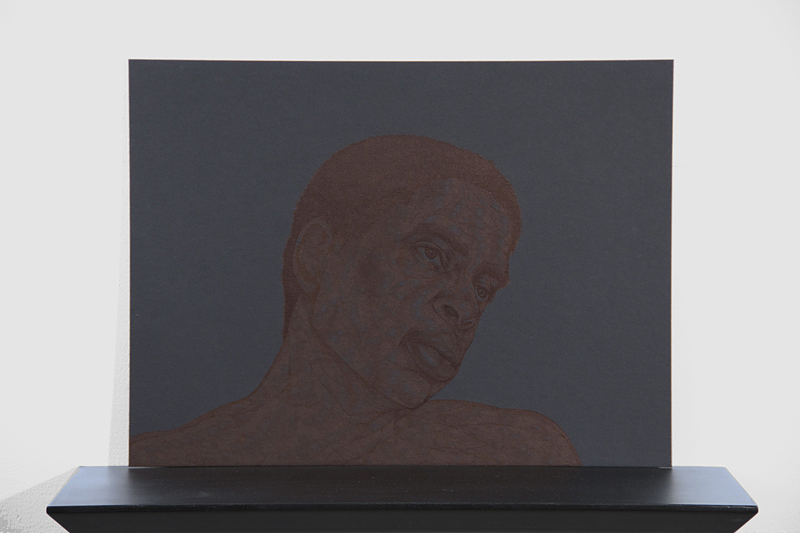 ---
2012—2013
While concerned with the historical representation of the black subject in modern and contemporary portraiture, [her] focus shifts to the transcendence of skin (color) and placement (origin), opening a field for the viewer to place themselves in the work; finding spaces to belong or to reject, to possess, to implant one's self or to find freedom from the rejection of that space.
— Jack Shainman Gallery, 2013
---
2013

All These Garlands Prove Nothing
A record of different hair stylings donned from 2008 to 2012,
through the filter of memory
. Each portrait conveys the same subject at issue with varying personas. The drawings were created using graphite, ballpoint pen ink, and marker on paper. Collectively, the series stresses how arbitrary identity is more emphasized by each dubious, "singular" picture, especially once embellishments are altered or disregarded altogether.
---
2013

Guaging Tone & Of Another Kind
When an aesthetic is inverted, does the meaning stay the same? If so, does this affect how people might read images of themselves? What might they recognize and what is forgotten or lost? Does this render images as easier to deal with or simply more convenient? To apply this effect, each drawing is made of metallic marker on illustration board.

---
2014

Like the Sea

The series title is excerpted from an aphorism in Zora Neale Hurston's
Their Eyes Were Watching God
(1937), which states:
"Love is lak de sea.

It's uh movin' thing, but still and all,

it takes its shape from de shore it meets,

and it's different with every shore."
Eleven drawings capture two younger brothers. They are surrounded by tapestries emblematic of the various locales their family has lived. These sites and the memories associated are interwoven into the moments of love shared there. An attempt towards subjectivity through specificity of a narrative, the series shifts away from the "decontextualized" surroundings of past works.
---
2014

Untold Stories
Thirteen mixed-media drawings using pastel, charcoal, marker, pencil and graphite on paper for the solo exhibition at
Contemporary Art Museum St Louis
. The series presents isolated visual narratives with diptychs and triptychs combining image with text.
---
2015

Of Context and Without

Drawings made of charcoal, pastel, marker, ballpoint pen ink, and graphite on board and paper. Each picture in conversation with its given title. They ask the viewer which method is more reliable to arrive at meaning: through the provision of context or without?

---
2015—2017

The Treatment

Forty-three drawings as a single work, depicting well-known, white men in their youth. Applying the prompt from Nina Simone's dedication to Lorraine Hansberry, "Young, Gifted and Black," every picture is rendered in black, ballpoint pen ink and graphite. Each portrait treated as systemically indistinguishable from the sameness of the group.

The labor required to create the individual pieces changes nothing: there is no supportive text or enhancing narrative added; each drawing is titled in the sequence it was created. In a singular chroma, these figures are stripped of the constructs and exclusivity their definitions afford. Their image is included at the margins, at the mercy of shifting reads and perceptions.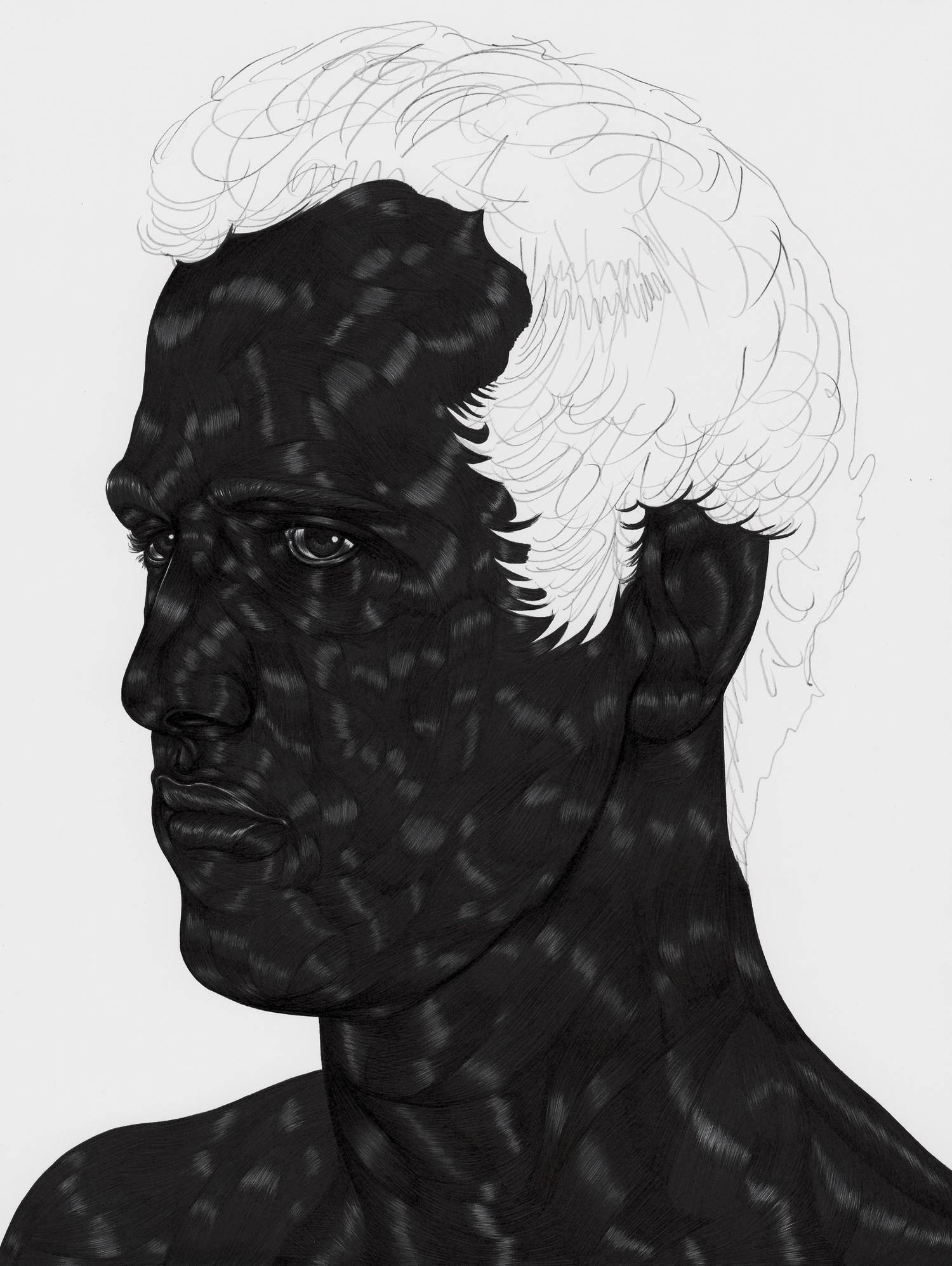 ---
2016

A Matter of Fact
Chapter One

Nineteen drawings made of pastel, charcoal, and graphite on paper for the solo exhibition at Museum of the African Diaspora. Presenting a fictionalized union between titled sons from two aristocratic, Nigerian families: The Honorable Jideofor Emeka from the UmuEze Amara Clan and his husband, Lord Temitope Omodele, from House of Obafemi. The series focuses on the Emeka marquisate, one of the oldest noble clans of Nigeria, highlighting their wealth and holdings if colonialism and chattel slavery had never disrupted the country. The crimson-clay red wall color chosen is emblematic of the stature and wealth of the family.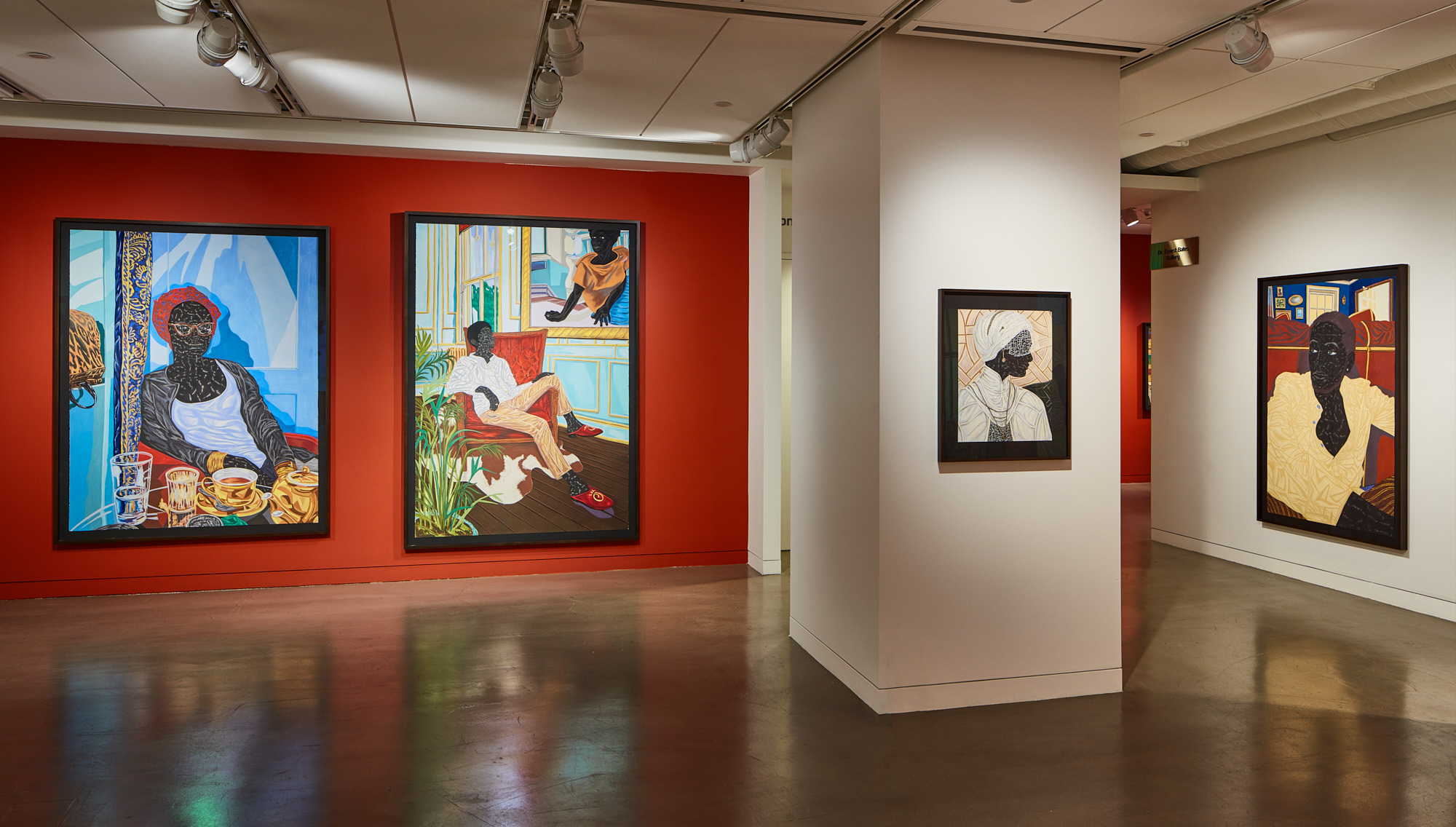 ---
2017

To Wander Determined
Chapter Two: Part One
Fourteen drawings from the collection of two fictionalized Nigerian, aristocratic families, with focus on the Omodele barony, House of Obafemi. Known for their ambassadorship, wine, and travels, the soft, pink wall color chosen emphasizes
the family's matrilineal power
.
---
2017—2018


Testing the Name
Chapter Two: Part Two
Sixteen drawings made of pastel, charcoal, and graphite on paper from the fictionalized House of Obafemi collection. Presented for the solo exhibition at SCAD Museum of Art. Part Two centers on the relationships between parents and children of the Omodele barony,
particularly that of Lord Temitope with his father, Lord Ayotomiwa
. The haint blue wall color is inspired by and pays homage to the rich Gullah culture prominent in Savannah, Georgia.
---
2018

When Legends Die
Chapter Three

Thirty-three drawings made of pastel, charcoal, and graphite on paper. Presented as a final chapter to the fictional Emeka and Omodole families and their collective legacy as the UmuEze Amara Clan and House of Obafemi. The wall color brings a finality in tone to the series, signifying the changing of regimes.

---
2018

Scenes of Exchange
Seven drawings created for the 12th Manifesta biennial theme,
"
The Planetary Garden
,"
highlighting the globally diverse history of Palermo. This small series presents possible encounters through the lens of trade between Italy and Nigeria. The chosen wall color reflects interiors often found in the antiquanted buildings of the city.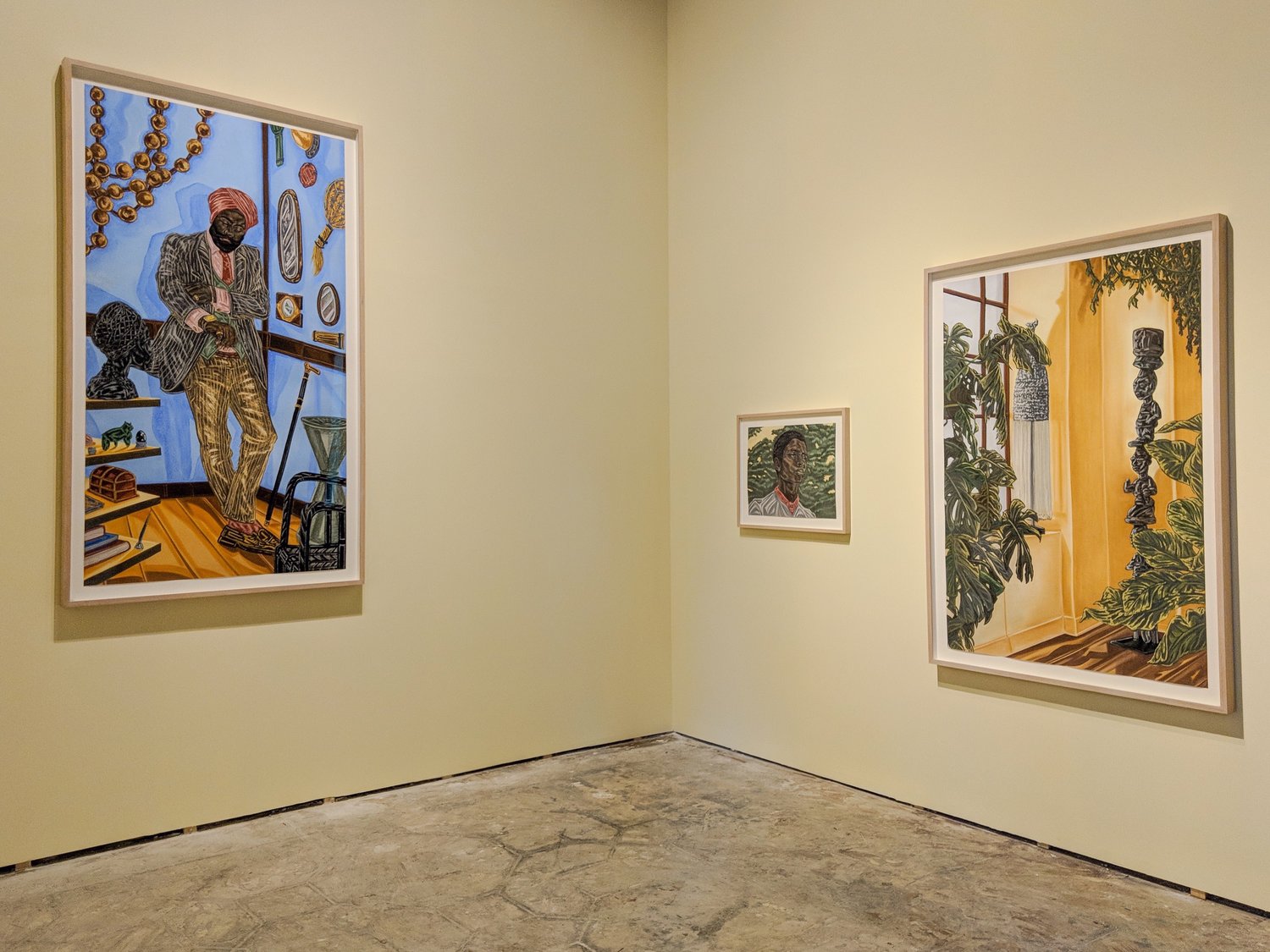 ---
2017—ongoing


This Moment No Longer Belongs To You
Travel, auto-portrait archive of drawings and sketches. Each portrait is a place.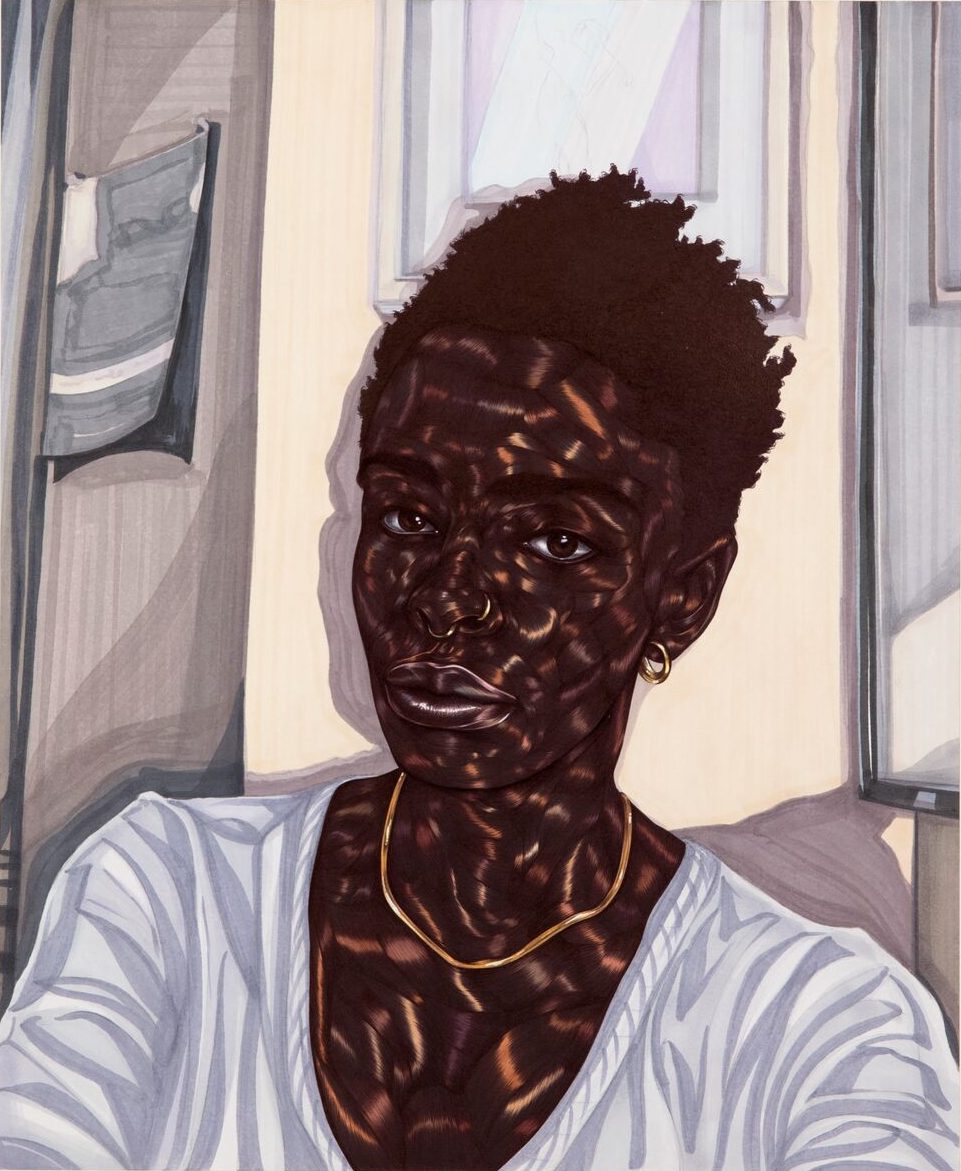 ---
2018

Sadie (Zadie Smith)
National Portrait Gallery
, London commission honoring Zadie Smith for her contributions to the arts. The title addresses the writer by her given name. She sits, donning her natural hair, in front of a map bearing her childhood home of Willesden, while shadows of palms allude to her Jamaican heritage.
First exhibited at Brent Museum and Archives, where Smith grew up nearby in NW London, for the group exhibition,
Icons of Colour: Portraits of Brent's Change Makers
.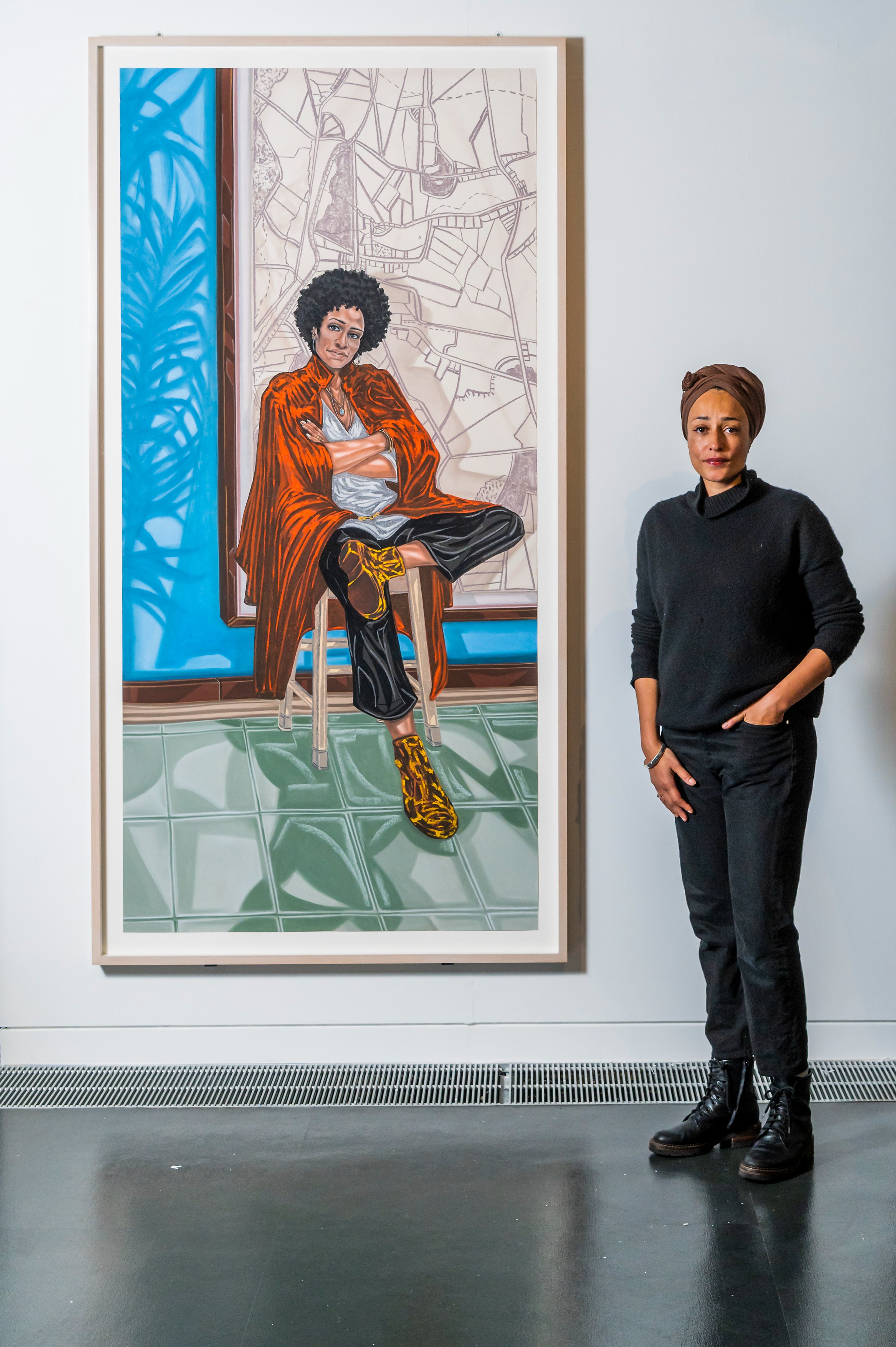 ---
2019—2020

A Countervailing Theory
A recently unearthed ancient parable set in central Nigeria's Jos Plateau. Forty monochromatic drawings made of pastel, charcoal and chalk on gessoed linen and board are presented in an undulating sequence against gradating wall striations. The series is conceived as pictographic scans of black shale tablets found in the region which counter previously believed origin stories. Read as a single body of work, it
questions the nature of mythologies we tell ourselves
.
For solo exhibitions at Barbican Centre's The Curve,
Kunsten Museum of Modern Art Aalborg
, and the Smithsonian's Hirshhorn Museum from 2020 through 2022.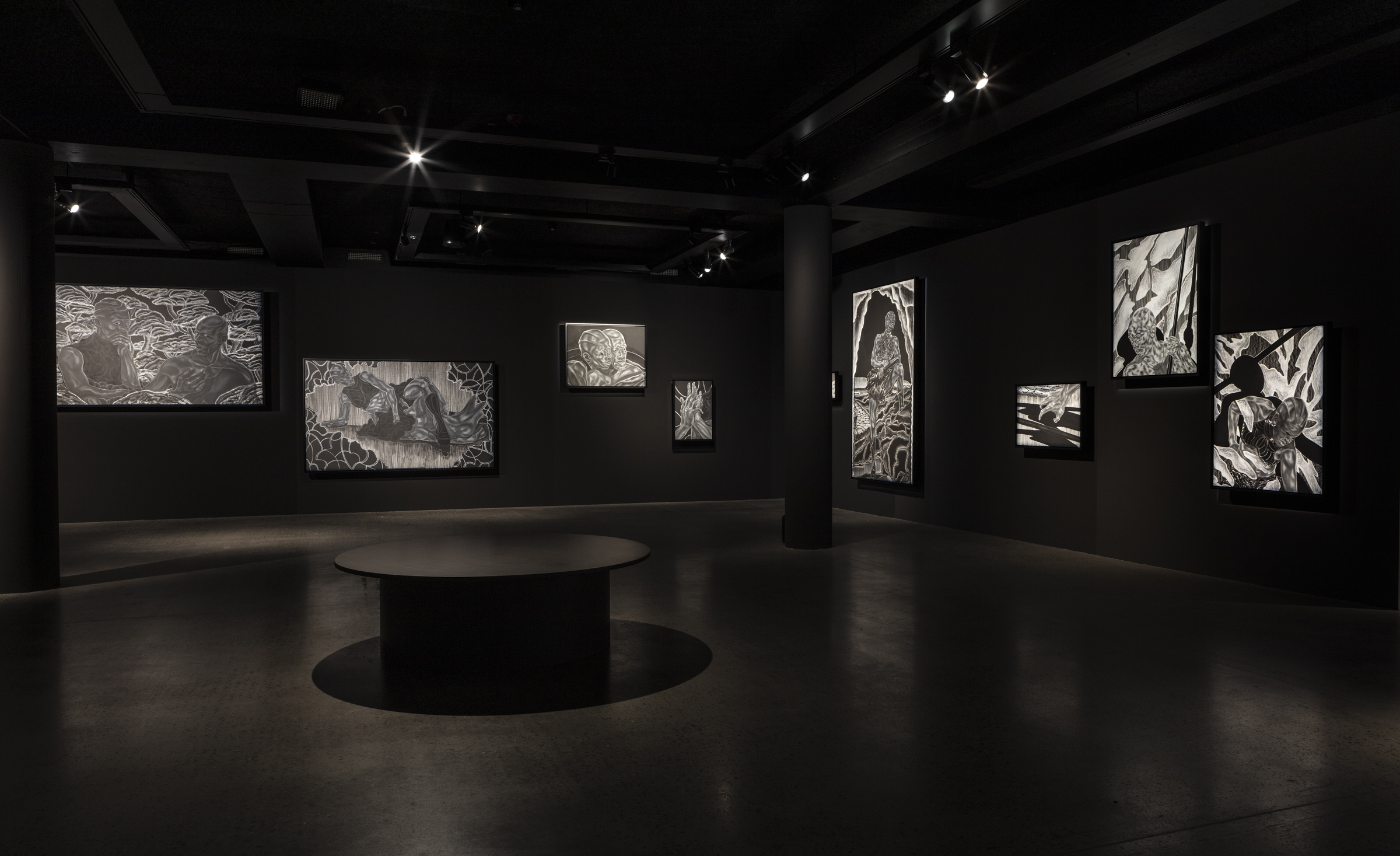 ---
2020

Tell Me A Story, I Don't Care If It's True
---
2021—ongoing

Missed Connections
As of 2021, Ojih Odutola contributes to her
«Missed Connections»
artist column in
Elephant Magazine.
Each biannual issue features a new scene constructed by the artist.
Scene Catalog
---
2021

The Listener

84 x 50 x 1 3/8 inches drawing made of charcoal, pastel, and chalk on linen over Dibond panel, titled,
The Listener.
Part of the year-long, exhibition project,
Living Histories at Frick Madison
, engaging with works in the Frick Collection through queer perspectives from contemporary, New York-based artists.
The world of
A Countervailing Theory
in conversation with Rembrandt's paintings, specifically a 1658 self-portrait towards the end of his life and a 1631 commission at the start of his career.
The Listener
posits how choosing to be quiet is a defiant power, and how making space for others to speak isn't simply a small courtesy, but an act of sovereignty.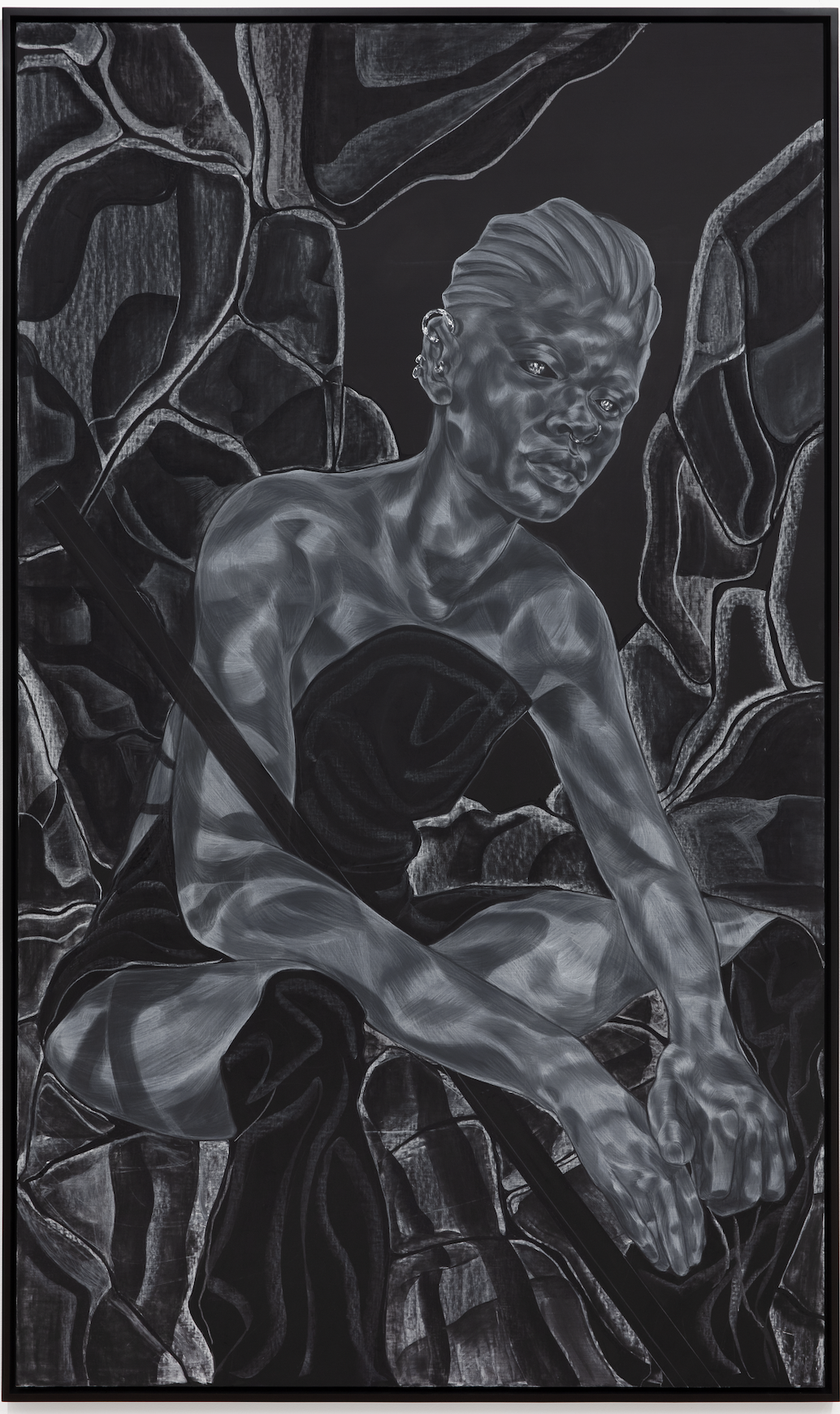 ---
2021—2022

Satellite

It's year 2050, and an encryptor named Oluwaseun struggles with the common affliction of "self- forgetfulness." One early morning, within her contracted, screen-tiled room in Eko (traditional Yoruba name for Lagos), she subscribes to the memory-retention service, REMINDR. A hologrammed head sculpture is sent as an initial prompt. She has no clue why this is sent to her, yet she proceeds with the program. This hologram activates a strangely familiar presence which interrupts "Seun's" isolation. Through the course of a moon cycle, the spirit of Adeseun emerges from the head: revealing himself in parts, transmitting messages for her to decipher. They orbit one another, ultimately merging, creating a new memory which imprints onto their home.
Series of twenty-one drawings (two diptychs) made of pastel, charcoal and graphite on paper.
Presented as the solo exhibition
New Work: Toyin Ojih Odutola
at San Francisco Museum of Modern Art, 3rd September 2022 — 22nd January 2023., exhibition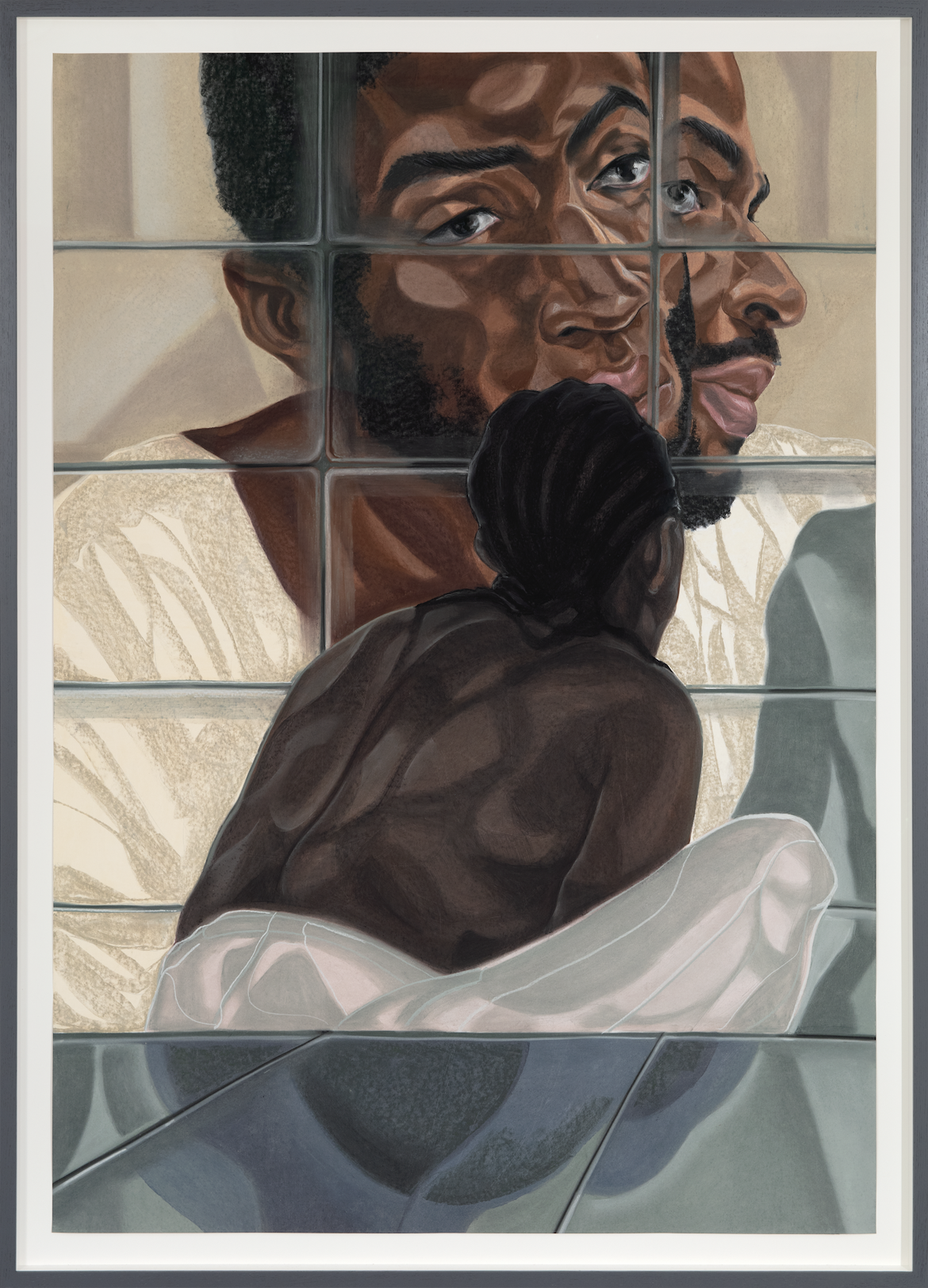 ---
2021—2022

Manifesto of Fragility
16th Lyon Biennial of Contemporary Art
Drawings made of pastel, charcoal and graphite, presented alongside past works on loan for biennial theme
"Manifesto of Fragility
," curated by Sam Bardaouil and Till Fellrath.
Works vary in style and narrative—an accumulation of Ojih Odutola's projects over the last 5 years, at the Gallo-Romain Museum, Lyon-Fourvière (Lugdunum).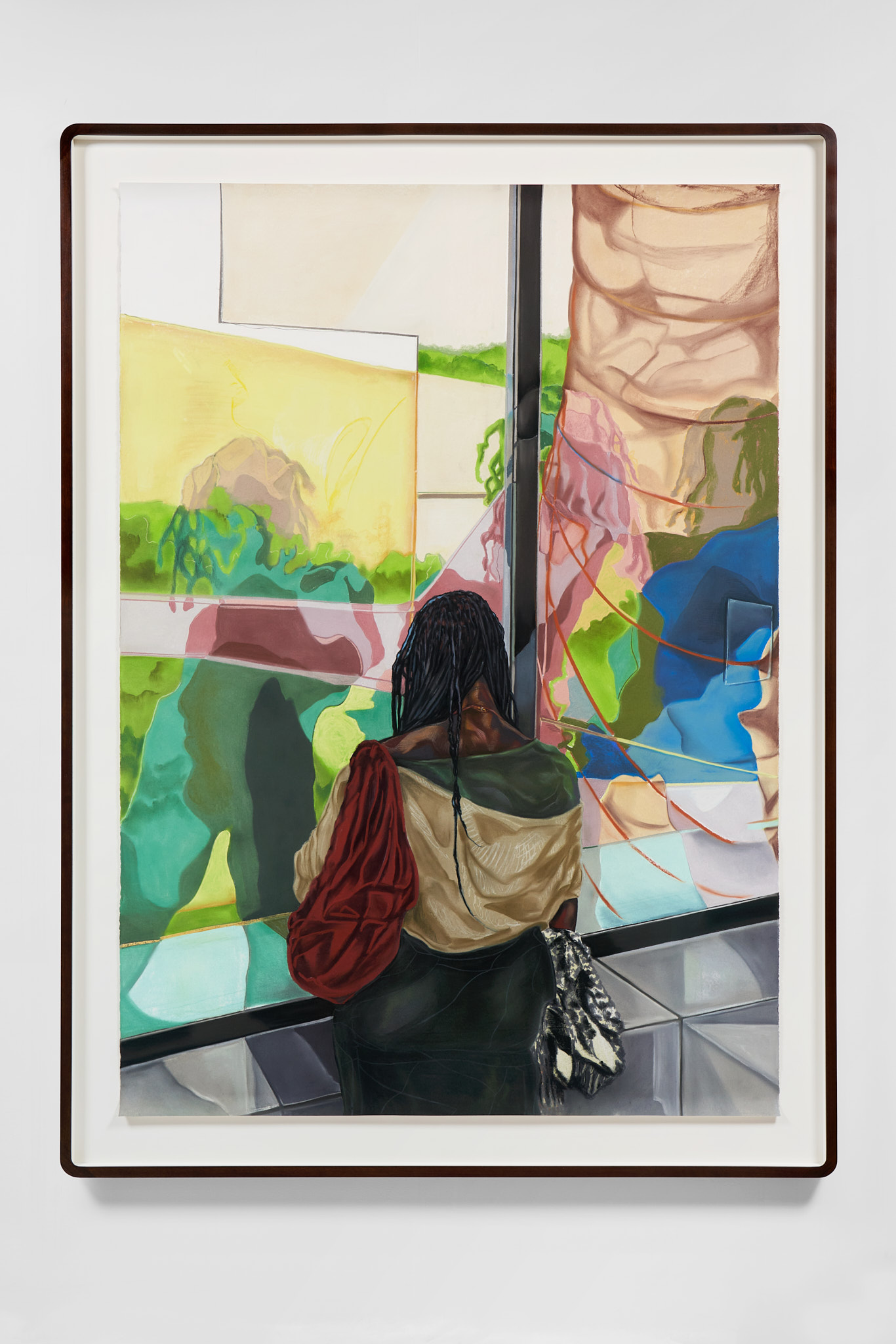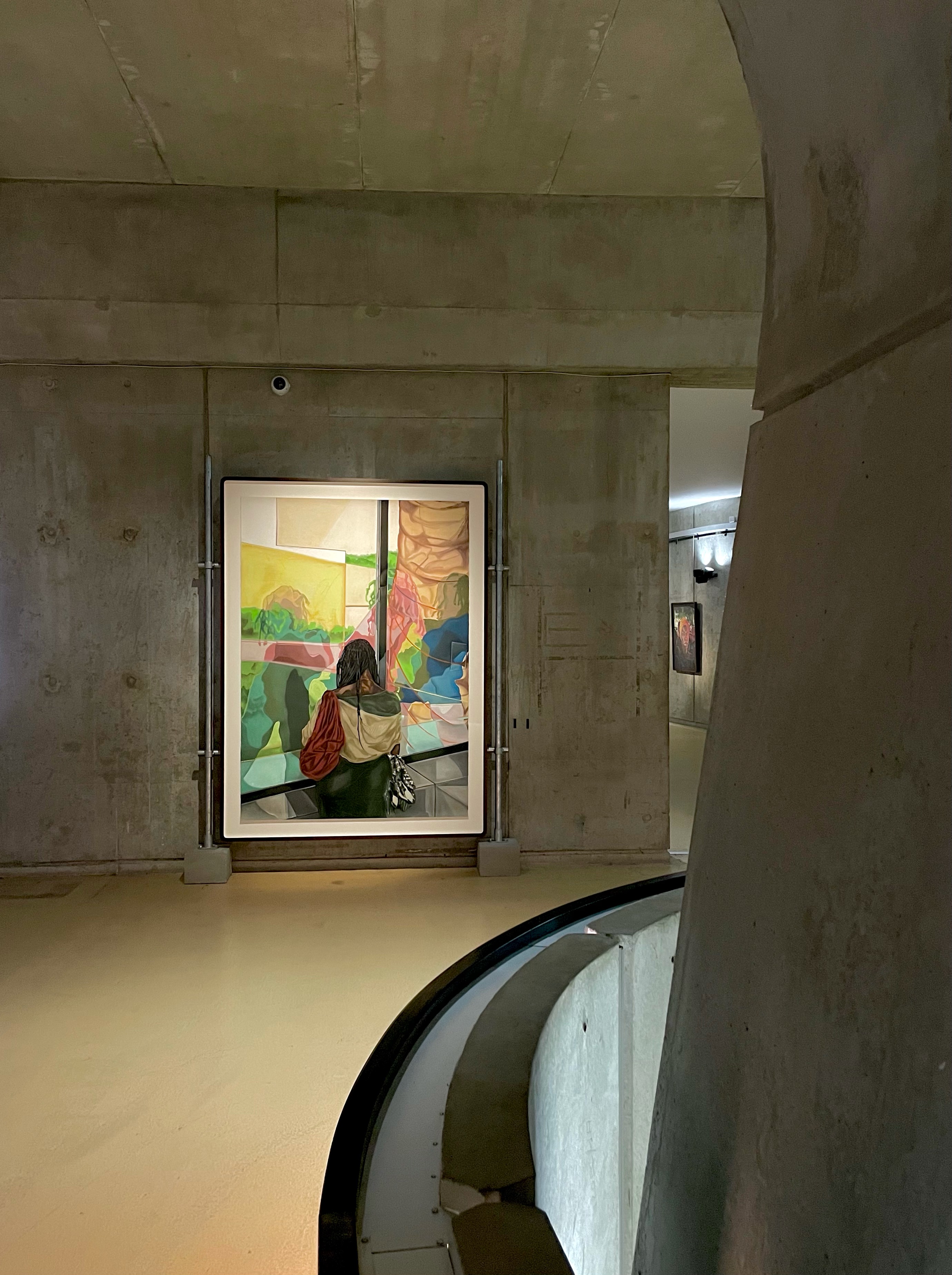 ---
2022

Serena
Smithsonian Institution, National Portrait Gallery's commission for
Portrait of a Nation
, which "honors extraordinary individuals who have made transformative contributions to the United States and its people." Serena Williams is a 2022 honoree.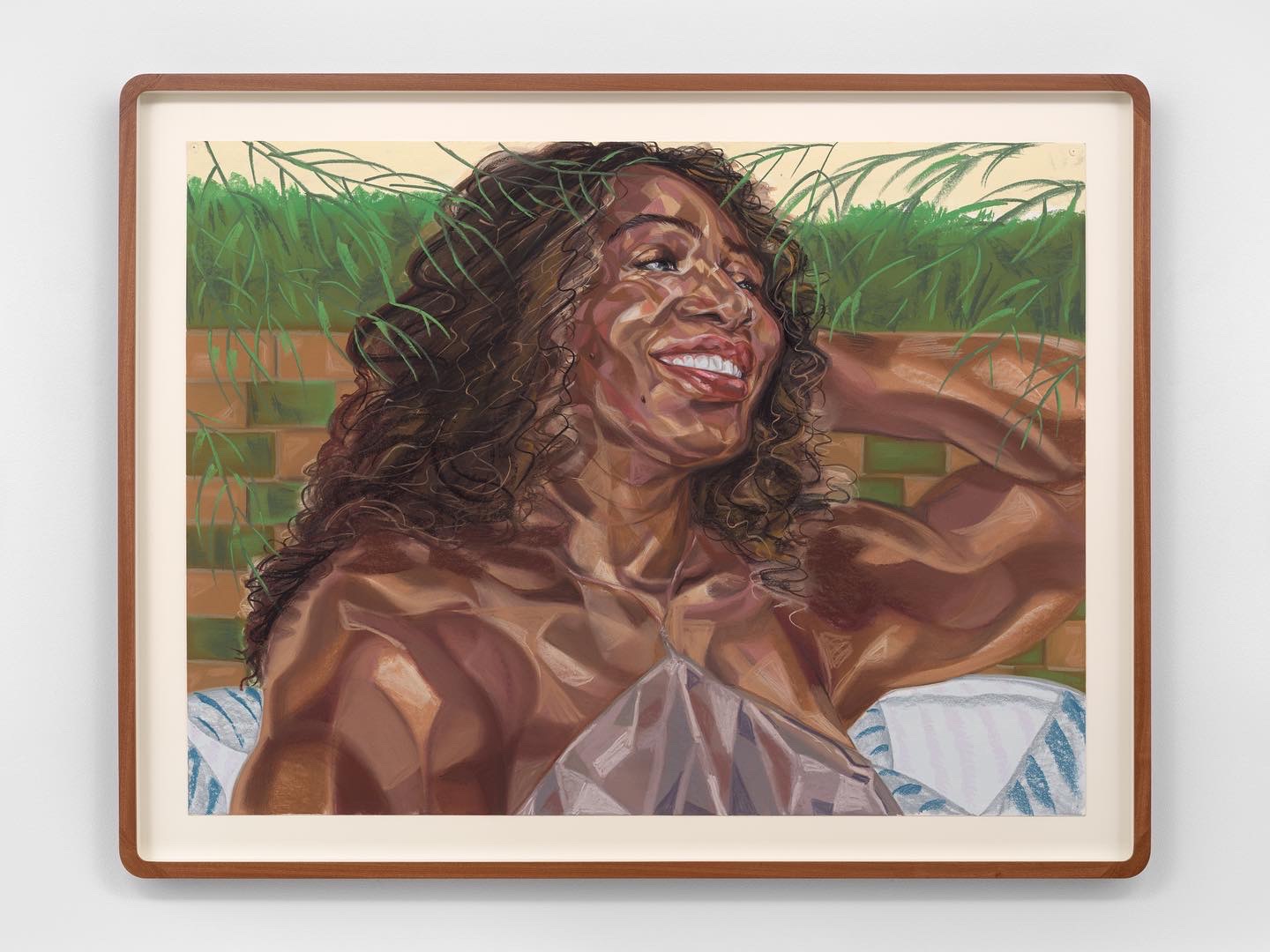 ︎Select photographs from "Homepage" slideshow and "Timeline" Courtesy of: Jack Shainman Gallery, Hirshhorn Museum and Sculpture Garden, Kunsten Museum Aalborg, Barbican Centre, National Portrait Gallery (London), Whitney Museum of American Art, Savannah College of Art and Design Museum of Art, Contemporary Art Museum St. Louis, Museum of the African Diaspora in San Francisco, Pinchuk Art Centre, The Frick Collection and San Francisco Museum of Modern Art.